Our tips newsletter to help you succeed.
Find helpful tips and hints on using Excel, Word, PowerPoint, and print. To view past articles by subject - click here.
Excel – Working with Formulas

Print – Providing Graphics To Your Print Vendor

Word – Bullets and Numbered Lists
Excel – Adjusting Column Widths/Row Heights

What is a UV Coating?

PowerPoint – Adding a Template to Your Slide Design Library
PowerPoint – File Types – .ppt, .pps, .pot, and htm

Sizing Up Your Files for Print

Word – Taking a "Break"
Function Keys - Explained

Excel - How to Select Multiple Cells

Scientific Posters - Tips and Hints
January 2010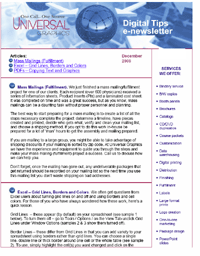 Word – Using Sort

PowerPoint – the Task Pane (or Pain?)

Sticking with Static - ClingZ Paper
Excel – Macros Made Easy

Word – Working with Headers and Footers

What is a BtoB (BtoC) Digital StoreFront?
Excel – Working with Zip Codes (Numbers vs Text)

PowerPoint – Inserting Tables from Excel

Choosing the Right Fold for Your Next Project
PDFs – Extracting, Inserting, Replacing, and Deleting Pages

Paper Stock – Demystifying Paper Thickness Jargon

Word – Creating Envelopes
PowerPoint – Moving Objects More Precisely

Printing – What is a Die-Cut?

Excel – See the Data You Need to See – Splitting vs Freezing Panes
Graphic Formats – Web vs Print

Excel – Adding Page Breaks for Printing

Word – Counting Characters
Removing Hyperlinks – Excel, PowerPoint and Word

Cost–Effective Printing – On-Demand
PowerPoint – Using Grouping, Ungrouping and Regrouping

Excel – Formatting Data Cells

Turning Heads with Large Color Banners
Excel – Sorting Data

On-line – Typing Characters From An Image When Completing An On-line Form

Universal Graphics – Thinking Large-Format
Word/PowerPoint – Changing the Case of Text

PowerPoint – Using Bring to Front and Send to Back

Presentation Folders & Other New Goodies
PowerPoint, Word and Excel: Creating Organization Charts and Diagrams

Create Targeted Customized Marketing Materials

pURLs – Personalized URLs
Emailing an Excel, Word or PowerPoint File Directly from Excel, Word or PowerPoint

Designing Postcards Within Postal Regulations

Changing the Text Size of a Web Site
Mass Mailings (Fulfillment)

Excel – Grid Lines, Borders and Colors

PDFs – Copying Text and Graphics
Blog

Excel – Why Excel is Better Than a Calculator

Word/Excel/PowerPoint – Edit Paste Special – Text
Search and Replace - Advanced Use

Holiday Gifts Ideas

PowerPoint - Using Animation
Adobe Reader vs. Adobe Acrobat (PDFs)

Pocket-sized Conference Guide Books

Word – Creating Columns
Excel – Making Excel Do Your Data Entry

Printers' Terms (bleed, die cut, kiss cut, etc)

PowerPoint - Keeping Your Notes with You
Creating DVDs and CDs

Word – Managing Hyperlinks

Going Green with Digital Printing
Creating and working with charts in Excel

Using charts in PowerPoint and Word

Trade show materials
PowerPoint – the tool for gathering your thoughts

Print Quotes – what information to provide when requesting a quote

Excel – Word wrapping and adding a line return within a cell
Word – seeing your document from a different angle

Project Coordination - Training Binder

Excel – Paste Special
Right Mouse Clicks

Document Binding

Word – Text wrapping
Excel – counting

Preparing files for large format printing

Word – compare and merge documents
Cropping graphics in Word and PowerPoint

Cutting file sizes in PowerPoint

Preparing files for printing
One-to-one Marketing/VDP (full article)

What is a bleed?

Excel – combining text fields
Word – E-mail Mass Merge

Graphic Formats – CMYK vs RGB

PowerPoint – Using Master Pages
PowerPoint – to change fonts quickly in a document

Graphic Formats – TIFF vs. EPS

Excel – to see the sum of a list of numbers in a flash